COMPANY OVERVIEW
Established in 1988, Complete Medical Supplies is a leading manufacturer, importer, master wholesaler, exporter and product source specialist of over 14,000 medical, healthcare and ergonomic products.
Our customers routinely describe our significance in the marketplace based on our "wide and unique product selection", "one stop shopping", "same day shipping", "competitive pricing", "no minimum order", "drop shipping policy" and "value added services". Over the last 25+ years, we have grown significantly. We pride ourselves on providing personal attention and exceeding our customer's expectations.
MANUFACTURING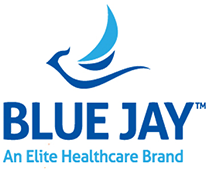 Complete Medical Supplies Manufacturing Group is our healthcare products manufacturing specialty arm. All of our products are manufactured under our Blue JayTM An Elite Health Care Brand. Our products are of the highest quality and feature amazing retail packaging for easy merchandising.
EXPORT SPECIALISTS
Complete Medical Supplies exports products to more than 40 countries. Our experienced bilingual staff is pleased to provide special export pricing based on varying quantities including less-than-case, case, less-than-container and container. We are proud to offer our export customers a wide selection of medical and healthcare products.